Benchmark export project

The Metso ND Engineering staff has done a magnificent job in keeping ahead of schedule in the construction of 18 giant pressure vessels for an Australian manganese mine.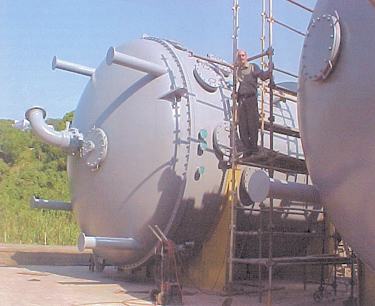 The giant pressure vessels being readied for shipment.
The first batch of vessels is scheduled to be delivered over the next few weeks. "It was a magnificent achievement. Some people said we couldn't complete the job in time, be we have proved them wrong. Our staff have done an outstanding job on these vessels and we are extremely proud of this achievement," said Operations Director, Elvis Green.
The tender for the Australian contact was on in the face of stiff opposition from several other engineering firms including a large Australian consortium. The complete job which entails the use of nearly 1000 toms of carbon steel is one of the biggest export orders of its kind to leave South African shores. The first three are 5 meter in diameter and weigh 47 tons each. They are made of carbon steel.
"It really is a landmark contract, and I believe it will become a benchmark for other similar jobs," said Elvis. The Australian contact again emphasized how highly the South African stainless steel fabrication industry in regarded worldwide. ND Engineering has been at the forefront of the export drive..
For more information, please contact Axel Nielsen on 031 - 464 0625.