Mild Steel spalling is a worldwide phenomenon that damages commercial propertis, brideges and infrastructure, typically found in marine environments. (See example of a Rail Bridge in Kwa Zulu Natal, showing corrosion of two support beams). A low cost solution was sought in 3CR12 and we can report that tests have produced positive results.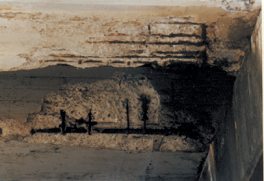 We provide an elaborate range of universal and conventional silencers to meet most modern exhaust applications
Accelerated corrosion testing has been carried out in a marine climate simulator, using '3CR12' and steel as the reinforcing medium in concrete prisms. Comparative results of the two metals exposed in equivalent concrete mixes, concrete strength and cover to reinforcement. After 30 months exposure to the aggressive accelerated testing, 3CR12 exhibited excellent resistance to corrosion and thus shows considerable promise as a reinforcing material for concrete, in comparison with mild steel.
The outcome of 30 months exposure, with 12mm cover and a concrete strength of 20 MPa.