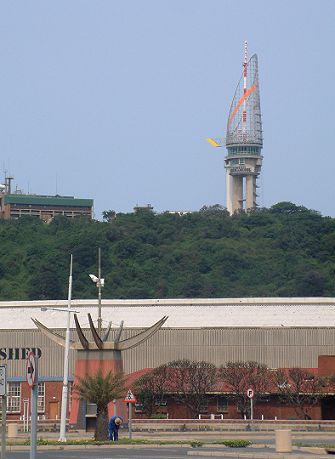 The Millennium Tower
Perched high on the Bluff peninsular in Durban is the Millennium Tower. This landmark is occupied by the port control and signals staff and provides with a 360-degree view over the port, city and sea approaches to Durban. It also boasts an operations room on the top level 27 metres up, a middle floor for Search and Rescue and a foyer level.
Designed by Soundspace designs – who were awarded the contract after winning the design competition out of 52 applicants – this tower features a huge 37 metre high rotating cowl and wind vane that reflects wind direction and a 50-metre spire that indicates tidal movement.
Banks of traffic light signals visually regulate navigation in the port entrance channel and a computer driven sunscreen with horizontal and vertical blinds tracks the movement of the sun. This feature constantly changes the external appearance of the tower throughout the day and effectively becomes an indication of the time-of-day while at night lighting colours within the cowl change according to a random algorithm driven by the tide, wind direction and humidity.